I've had several callers recently ask me what 'sph' stands for. Well, it stands for……
small penis humiliation.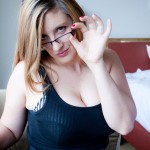 Most times, you'll already know what sph means now won't you? If you're calling me with your little 4 incher in your hand; pumping it ferociously with finger and thumb simultaneously, you clearly know what to expect. Yes?
you already know it's small.
I'm not the first woman to tell you how small your penis is. We can all agree here; you weren't gifted when it came to cock size. Hopefully, you're well versed in cunnilingus? Or maybe you know….
I deserve a REAL cock.
Yes. I do. All women do. You know it's true. You'd better get used to it.
Call Me:
1-800-863-5478
ext: 10067563
View My Niteflirt Listing