I'm a woman that knows how to work her assets. And by assets; I'm specifically talking about my bodacious ta-tas! I'm no fool; I know what you're addicted to. Right this moment I'm wearing the sexiest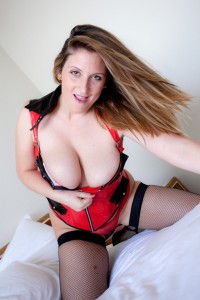 black lace bra that has my breasts nearly overflowing! I love to tease you with my breasts; knowing that you'll do anything for them.
Let me guess…….
You're adoring my gorgeous breasts. You've purchased one of my Sexy Picture Sets; maybe the one with my DD's fully exposed or perhaps you've been enjoying a tease with my pure cleavage shots. You've got your cock out and you're stroking…………
But, wait. What about me? I want to enjoy this fantasy, too! Take your hand off that cock!
I want you to either Call Me or purchase my audio titled 'Titty Tease: You Want To Cum On These DD's?'.
Until then. Look, drool, but don't touch yourself until my voice tells you to!
Call Me:
1-800-863-5478
ext: 10067563