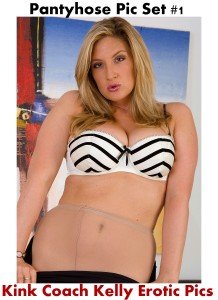 Here's a brand new photo set – featuring nude, sheer to the waist pantyhose! I've split this up into three different groups – nude, xxx, and one specialty set focusing on feet and legs. Click the links below to go directly to the Goody Bags!
Pantyhose Nude – XXX – Feet & Legs
Please make sure to leave A++++ Feedback on this and any other goodies you purchase.
Don't forget to look through my Goody Bag collection while you're online, to follow me on Twitter and to subscribe to my Personal Blog for updates.
P.S. – I also make custom audios! Send me an email to discuss erotic content and pricing. kelly@kinkcoachkelly.com
XOXO Kelly