We're starting the New Year out with the ULTIMATE in Exposure for Sissy Faggot Loser Supreme Tara!
You may remember Tara's Public Confession early last year here on my blog and on Twitter. We kept it pretty tame that time; using photos of Tara all dressed up in femme and having her share her personal story. Well, well have I got even more humiliating pictures and stories for you about Tara! She has been on a sissy-tosin rampage all over Niteflirt; being exposed on other Mistress's blogs and even starting her very own Niteflirt page! She even has a Twitter page that you can follow!
I remember when I first started talking with Tara; it wasn't long before I knew I had a true loser on my hands. I have had her on cam doing some of the most humiliating things – for me and for my friends, too! She's quite the cam slut and I can't wait to share some of her most exposed photos with you.
She's really done it now – she purchased my Public Exposure Goody Bag a SECOND Time! Tara has given me tons of ammunition to fully and FOREVER expose her to my followers – from this day forward; this blog will stay here for eternity – pictures and all – never to be removed for any reason (or unless a very substantial tribute and a very lenient Mistress mood hit on the same day). Here you have it Tara – you are now, as they say, Royally Fucked.
Let's start out with a photo I've edited to showcase some of Tara's most sissy-like details: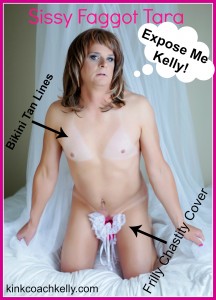 And now, directly from the diva herself……..
Dear Kelly,
Kelly, I writing to you in regards, to the incriminating photo's you have posted of me dressed in feminine clothing, panties, and a dress on your web site!  Also, you've posted even more embarrassing photo's of me on your twitter page!   Worst of all, you have referred to me as a loser and a faggot in these posts!  The things you've posted and said about me, could be considered rather, shall we say mean and humiliating?  Now, to be fair, I do remember, you did caution me, about wanting to have my face, in my first confession!  Even to the point, where, you warned me, that it would be up there forever!  You also warned me that it would be very difficult and  expensive to convince you to take it down!  Your cautions and warnings, didn't go unheard, I toned my confession down, and we didn't include any nudity!  However, the photos do make me feel rather vulnerable, and the names you've called me, let's just say they can be rather damaging!   
The only problems are, I am hopelessly addicted to you, and that vulnerability I feel, well it turns me on!   Kelly, I want you to know,  I feel truly blessed to have found you, and I'm excited that you agreed to expose me on your web site!  But, I want more!  I would love for you to expose me deeper!  Please Kelly, please take my embarrassment, humiliation and shame to a new level!
Kelly, please make other sissies envious of me!  Please expose me so guys can jerk off looking at me and reading about me!  Most of all humiliate me, to the point, that Ms. Jane and Ms. Susan greet me and refer to me as a loser when I call!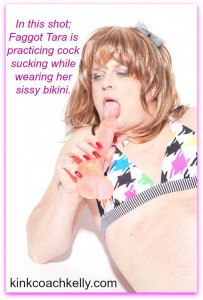 Kelly as you know, I love being in front of the camera!   I love being told how to pose, or to hold a pose as you take an embarrassing picture of me and then post it!  Some how, the pleasure center in my brain must release some adrenaline or endorphin into my blood stream!  Because it feels real good!  For the sake of embarrassment, let's just refer to this as sissytosin!  For me having sissytosin released is almost more pleasurable than sex!  It's got better than alcohol or drugs!  I also have a tendency to get real carried away, when my sissytosin level gets too high! 
When that level  gets high enough, I'm thrilled, to take my panties off, grab a toy, and penetrate my sissy pussy for you!  It feels like every time, I ram a toy in for you, it pushes one of my secrets out of my mouth and more sissytosin into my blood stream!  You seem to gobble up my confessions and you seem rather happy to use them against me!  That's part of what makes you so irresistible! 
Also, when my sissytosin level gets to high, and a see a really cute girl, I don't fanatasize about having sex with her, I fantasize about not having sex with her!  To me it feels so fantastic to be eliminated as a male with hot women!  When, I fantasize and masturbate to these women, I'm always wondering if they shave their pussies, the size and type of cocks they like, how hot and wet they get!  Then of course, I think about the fact she, just painted my nails, sold me panties, recommended a girly smelling tanning lotion, etc…. and she now knows, I am a fag, and best of all, I get the shame of knowing, her pussy is now totally off limits!     
The truth is Kelly, I've had so many orgasms fantasizing about not fucking you, I could never afford pay you a penny for each one!  What's worse is, I've had even more ruined orgasms than that!  But, the most humiliating thing is;  I really hate having orgasms, when I rub my self to your goodies!  It just seems wrong!  That's why, I try to ruin them!  Actually, it's more embarrassing than that, I probably have twenty to thirty wonderful edges for every orgasm, abandoned orgasm, or ruined orgasm, that I can't avoid!  I love rubbing off to you and orgasms only ruin the fun!
In fact, the reason why, I'm so Kelly crazy right now is:  I haven't had an orgasm for five days!  Christmas Eve, I decided, I should allow myself a gift of denial!  My Kelly Addiction has really flared up!  I've spent  the last three days, looking at your "All Natural Woman" Photo, the one with your thigh pulled up showing your fabulas looking tummy, and comparing it to my sissy photo with my tan lines, and chastity cover!  Your so beautiful, and I so inferior!  I look at your bush and look down at mine!  I haven't much pubic hair left, and I could never look as hot as you down there!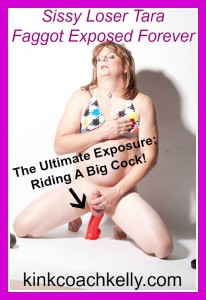 I had to do something about this!  So, I picked up the phone and called the laser treatment center, for an appointment!  I needed to go anyway, and they had great news, they could get me in today!  Now remember, I haven't cum in five days, and normally, I cum two or three time a day, at the minimum!  Of course, this motivated me, to dress to get some humiliating looks, therefore, I wore my tight  curvy jeans, my belt with all the gems on it, and a tan mesh sweater, over a tan camisole!  After, I got out of the car, I wasn't sure my outfit was sufficient to embarrass me, so I pulled my lacy red thong up so it was visible above my curvy jeans!   My shirt just barely covered it, so it was easy to show the two girls in the waiting room my panties, with just slight forward lean at the counter they were visible!  I did at least get some curious smiles from most of the girls there, releasing a slight bit of sissytosin! 
Usually, when I get to the treatment room the laser tech, has me sign the necessary forms and she steps out for me to change!  Today, after I signed the necessary forms, she was asking me all the normal questions, I just started undressing right in front of her!  I made sure, I was facing her as I took my lacy panties off, and my sissy prissy just sprang forward after being tucked back!  It felt so good, to have a hard on in front of Britney!  It was so worth it, to have been denied an orgasm for the last five days!  Getting my pubes lasered off, is the only way, I've been able to get a woman to touch my erection in years!  Don't get me wrong, it's not like she wraps her hand around it, she picks it up between her fingers, it's really rather humiliating, but today that was enough to make it throb in her fingers, as she shaved me!  In fact, despite the pain of the laser, my sissy prissy stayed erect and dripped almost the whole time!  
I almost forgot, you know those pictures of you in the "All Natural Woman" series?  You know your pubes look so hot?  After looking at your's, I decided that my little landing strip just looked awful, and my laser tech and I tried to make them look more feminine and sissified, but we ended up giving up, and she just lasered the landing strip away!  Since, the natural look is coming back, I'll be able to feel sissified with absolutely nothing in the way of body hair!  I'll be totally bald and embarrassed down there, forever!  Gee Kelly, that Forever word just keeps coming up today, doesn't it!
After, Britney took my pubes away,  I stopped by a busy Walmart to put some money on my debit card, to pay for my public confession, and get an embarrassing trip to forever!  The line at the register was long, and I did my best to stand patiently, looking as sexy as a sissy could!   I could feel eyes all over me, such glares, smirks and giggles!  I was so turned on, from my embarrassment, that I immediately, opened up niteflirt, right there, in the parking lot and purchased Kelly's public confession goodie bag!   I had already sent her the rough draft and the most embarrassing pictures I have, for her to post!  So, it just seemed logical to buy the goodie bag, while I was feeling like a total Kelly addict!  Feeling so satisfied with myself, I undid my jeans and slid them halfway down my legs, so I could rub my freshly smooth sissy prissy and girly bits!  On the way home, I reflected on what I'd done and what I just paid Kelly to do to me!  When, I got home, I listened to the audio that came with the confession goodie bag, and I'm afraid, I'm going to be edging to it forever!   I've already edged to it five or six hours!  It's that good!          
One thing, that I find most addicting about you is your ignore calls!  Sometimes, when I call, you will explain to those with you, why your phone rang, what ignore calls are, what I might very well be doing, which, I always am!  You are absolutely heartless, as you do this, but wave after wave of shame & embarrassment come over me, and when your friends laugh, I suddenly realize that sissytosin is making my sissy prissy is throb harder & feel warm, and get extremely drippy! 
Let me tell you, there's been times when Kelly has picked up the phone and announced to everyone that a pervert has called and is going to be listening in and jerking off!  She has even answered the phone and said hello Loser to me!  Those first moments are always interesting, because you never know what's coming!  Now, the most incredible thing, that has happened is when I've called, and I've been over heard moaning by waitresses, and gobs of her friends!  It's not just girls either, I've jerked and moaned as I could hear guys laughing at me too!  Being heard jerking off like that, releases so much sissytosin, that I keep my eye on her regular listing to see, if she becomes available for regular calls afterwards!  And, if she does, I have to call her regular listing, just to find out, who heard me masturbate, and who laughed at me!  I feel like such a fag doing this, but I can't stop doing it!  
 My actual favorite Ignore Call is when she and her friends encourage me, by telling me to make faggy noises and mock my sissy moans!  I just can't get enough of this!  One time she even recognized my moans and whipped out her phone, and showed her friends some of my sissy pics and told them all about me as I moaned for them!  I heard them all, and wow did they laugh at me!  That made me feel like a star!  Btw, In case this worries you, Kelly has my standing permission to show my pictures to any of her friends, and I'm thankful for her taking advantage of me like this!
Several times, I've been lucky enough to catch Her and William having sex!  It's so exciting to hear her moaning from what he does for her!  One time, I even got to interact with them and I sort got a crush on William!  I told Kelly, how bad guys are at phone sex, yet I'd love to have phone sex or real sex with William!  He's awesome and I'm so glad he and Kelly are together!  He's always so nice to me even though he knows I'm a total fag! 
I suspect, that Kelly has figured out that the words loser, faggot, and forever are trigger words for me, that instantly release large amounts of sissytosin, and bring me to the edge rather quickly!  In fact, I believe we had a twenty or thirty minute call, where I asked her, if she thought I was a loser!  Her first reaction was a giggle and a simple, yes sweetie, you're definitely a loser! 
I must admit, at first, I was a little uncomfortable about this, yet when, she started naming off things that define losers, she exerted such confidence and dominance over me, that she set loose a huge amount of sissytousin!  My throbbing sissy prissy was so hard and warm, as wave after wave of faggy edges washed across me!  It was like she was on top of me, fucking me with words!  Those words penetrated my mind and as they soaked in, I started to feel pleasure and pride and genuine excitement as I accepted being a loser!
Now, Kelly has my confession, my faggy pictures, and I've paid for the goodie bag, and as she would say "I have officially fucked myself!  There's no way to back out now, I'm just edging while listening to the Public Confession audio, over and over, thinking about how long forever is, what the word public means, and waiting until she is available for calls, so she can interview me and ask me all the embarrassing questions that haven't been answered as of yet!  
Currently my excitement is winding down, as I await my fate!  I'm nervous, will Kelly accept my confession?  How will I like, having my revealing pictures, posted and retweeted over and over, by people I don't even know?  Who is going to see me?  Or, what if they don't get retweeted at all?  I just know this would make me cry!  Where will this end?  Oops, I guess it doesn't end does it?  
Thank you Kelly
You're so sweet to do this to me!
Sissy. Faggot. Loser. Forever. There she is everybody! You can re-tweet, re-post, share, jerk off to, laugh at with your friends – everybody needs to see!
Do YOU want to be Publicly Exposed? Buy My Public Confession Goody Bag to get started.