As you may be aware, I offer a Public Confessions service here on my blog and on Twitter. As soon as I met Tara on the phone; I knew she was craving public confession and exposure. I encouraged her to purchase my Public Confession and here we are – with Part 1! Tara's writing was so fun and flirty and her slow reveal of her in full fem in her photos was so sexy that I just had to break it up into a multiple part confession. I'm so excited to share this first part and to share my Tara with all of you. I will be sharing more of her story and more of her pics as the weeks go by.
I hope you will comment on her confessions, on her photos (yes, these are REALLY Tara's photos!) and that you will re-tweet this so even more people see it! Her writing will always be in this sissy pink color.
I Love Being Seen In Fem (Part 1 of 3)
I've had several conversations with Coach Kelly about making a Public Confession on her blog, and she decided that I should do a Bio about myself!  That does seem kind of interesting, but I could go on and on, and most likely bore you to death!  To keep from boring you, I'd like to focus on more interesting material about, my desire to wear feminine things, why I like fine lingerie, softer women's attire, and the emotional and mental effects, as well! 
I will admit that my fetish for women's clothing started in childhood, my story is just about the same as everyone else, you can find all sorts of stories, about that on the net.  As, I said, I'd like to keep from boring you, so I'll start sharing my story, with an experience from college!  This experience, It seems, to have been the spark that got me started wanting feminine things!  Back in my college days, after a dance, my girl friend, and I were playing around, she still had her pantyhose on, and the feeling of them on my legs was amazing!  I've wanted that feeling again, but have never been that lucky since!
Visions of Sexy Women in Lingerie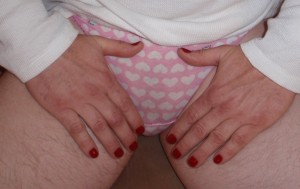 A few years later, while extremely fatigued, highly aroused, and denied masturbation, during a week long vacation with friends, guess what jumped into my mind!  That's right my X-girlfriend and her pantyhose!  It got much worse, as we drove through the desert for hours upon hours!   We'd run out of things to talk about, and I think everyone was going crazy from looking at desert and sand!  Visions of sexy women in lingerie, started running through my mind!  As the hours slowly drifted by, my imagination started shifting to being that sexy girl, myself!  Why not me?  Why could I not be, the sexy girl, the girl, men would do anything and everything for?    Suddenly, I couldn't wait, for vacation to be over!  But, my friends, made things worse, without knowing it, they added a cruel twist.  They wanted to stop at a shopping mall!  And, to add to my agony, everyone decided to go there own way!  I wandered through the mall, lost and in a fog, and there it was, a lingerie shop!  I wanted to go in, so bad!  I walked by that shop so many times, glancing in the windows.  Finally stopping and sitting out side the shop peering in!   I didn't understand my desires at all!  By the time we left Santa Fe, I was determined to start dabbling in my lingerie fetish!   After, returning home and getting some sleep, the desire seemed to fad slightly, but within two weeks, it was more intense than ever!  Soon, I found myself, in the lingerie department, buying my first couple pairs of panties!   I felt, so guilty, confused,  embarrassed, and extremely vulnerable, all at the same time!  What if, someone I know, comes in?   
My Sissy Prissy Was So Hard! 
After leaving with the panties, I stopped at a Burger King to use the restroom and put my panties on!  I had a white lace thong, and a pair of black lace bikini style panties, I opted for the thong!  And, they fit, my guess on the size couldn't  have been better!  I felt so naked, wearing my new panties, even though, I had jeans on!  I purchased a drink and a sandwich, and I felt so weird waiting for my food, the sensations of the lace and the feel of my jeans on my bare bum were so electric!  I was so amazed at the flood of physical sensations, and the flood of unexpected emotional effects!  I felt renewed, regenerated, and excited, but yet, nervous, vulnerable, exposed, but yet totally aroused!  My sissy prissy was so hard!  Feelings of guilt were coursing through me, at the same time!  Where was this going? 
Stay tuned in one week for Part 2 of Tara's Public Confession!