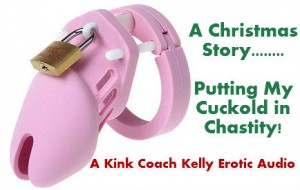 Just in time for the holiday – I've put this awesome erotic audio on sale from $10 to just $5! This little audio (4.5 minutes) is where I play a very naughty wife; surprising her cuckolded hubby with a brand new, pink chastity cage!
A Christmas Story – Putting My Cuckold In Chastity!
Please make sure to leave A++++ Feedback on this and any other goodies you purchase.
Don't forget to look through my Goody Bag collection while you're online, to follow me on Twitter and to subscribe to my Personal Blog for updates.
P.S. – I also make custom audios! Send me an email to discuss erotic content and pricing. kelly@kinkcoachkelly.com
XOXO Kelly