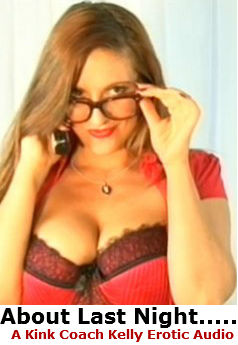 Are you a cuckold? Do you have fantasies about your wife becoming a total slut? I have made an erotic audio just for YOU! This is a recording of a voicemail I'm leaving my boyfriend. I want him to know that he was right all along; it's been easy to turn my husband (you!) into a full time cuckold. The evidence? Last night when I got home from being out with my boyfriend; I found you waiting up for me – ready to serve, ready to clean. Mmmmm. 5 Minutes of hot, sensual, honest audio.

This audio has themes that include: sensual humiliation, cuckold, hot wife, slut wife, big cock admiration, sph, orgasm control, creampie cleanup.
I hope you enjoy this hot new audio!
Don't forget to look through my Goody Bag collection while you're online, to follow me on Twitter and to subscribe to my Personal Blog for updates.
P.S. – I also make custom audios! Send me an email to discuss erotic content and pricing. kelly@kinkcoachkelly.com
XOXO Kelly