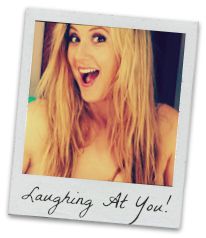 This new audio is one solid minute of my genuine laughter. I could be laughing after seeing your dick for the first time – you could have asked me out on a date; to marry you even! – You could be crying after I come home from a date with my new boyfriend. There are many reasons I might be laughing at you. I'll let you decide. Purchase 1 Minute Of Laughter Now.
Then,call me to hear me laugh at you – directly. Honestly. In real time.
Please make sure to leave A++++ Feedback on this
and any other goodies you purchase.

Don't forget to look through my Goody Bag collection while you're online, to follow me on Twitter and to subscribe to my Personal Blog for updates.
P.S. – I also make custom audios! Send me an email to discuss erotic content and pricing. kelly@kinkcoachkelly.com
XOXO Kelly