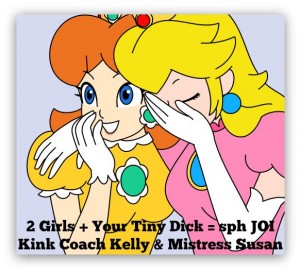 I've invited my friend Mistress Susan (small penis hotline on NF!) into my living room to expose your tiny dick! Enjoy the genuine laughter, the real excitement of me & my friend, Mistress Susan as they make you strip, make you stroke and make you cum – all while laughing, joking and even making wagers! You are going to love being in front of the two of us.

This audio has themes of: joi, sph, humiliation, masturbation instruction, exposure, cum eating, laughter, women giggling
Don't forget to look through my Goody Bag collection while you're online, to follow me on
Twitter and to subscribe to my Personal Blog for updates.
P.S. – I also make custom audios! Send me an email to discuss erotic content and pricing. kelly@kinkcoachkelly.com
XOXO Kelly