I often turn my Ignore Lines on when I'm unable to take a regular call. This way, you can still participate in my life and enjoy whatever it is that I'm doing. I answer the call and then put my phone on speakerphone. I don't interact with you much but I do love hearing your moans & groans! I love to call this my Lurk & Jerk line

For pervs!
Here are some examples of things overheard while my phone was stashed away in my bra (on speakerphone):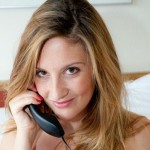 - My boyfriend and I – on a date or in very compromising acts!
- Me giving a sub a bare handed spanking.
- Tying a submissive up with rope.
- Me shoe shopping.
- Out to lunch, brunch, dinner, drinks, clubs, beach, shopping – with girlfriends!
- Play parties, kinky get togethers and many other events.
- A fun foursome was heard by a very lucky Lurk & Jerker!
You never know what I'm doing or what I'm up to – the best way to get an idea is on Twitter.
My listings for Ignore Line are easy to find on Niteflirt as: Kelly Ignores You or add me to your favorites: Kelly Ignores You

Note: I use two different listing names on Niteflirt – Kink Coach Kelly is for LIVE talk. Kelly Ignores You is for IGNORING you.