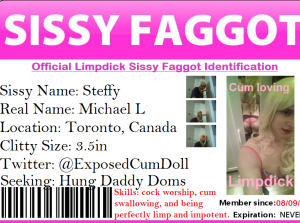 I am SO very excited to expose and humiliate my newest exposure volunteer (she IS a volunteer after all; having purchased my Public Exposure Goody Bag!). She asked for this!
Steffy is quite the sexy little sissy as you can see from her photos and from her Sissy ID Card. I mean; look at that pouty pink mouth and that sexy blonde hair! See her practicing her cock sucking skills on that dildo?
I recently had a call with Steffy and she didn't realize I was actually jotting down notes; word for word and here's what she had to say:
"Every girlfriend I've ever had; I would never be able to get it up for them. They would all become disappointed and cheat on me eventually. I would just stay soft and limp; it was pathetic. I would stay completely soft. They would cheat with Alpha males; I was useless."
Useless. Limp Dicked. Disappointment To Women.
"I'm thinking about moving away and becoming a T-girl hooker. I've had offers before and that way I could transition to actually be a she-male for the rest of my life. Cock worship and cum swallowing is all I fantasize about and I've done it before. I've worshiped the cocks of a few dom daddys and dominant she-males and it was where I belonged."
Many Disappointed Lovers
I also took the time to find out the names of some of those potential lovers that Sissy Stef has completely disappointed: Jamal K., Cassandra M., Marlaina J., Diana C., Tina H., Rachelle P.
Can you believe how many people have been disappointed because this limp dicked loser couldn't perform? Oh, but I bet Steffy could perform for cock!
Do you remember sending me this lovely photo collage Steffy? Didn't think I'd use it to further expose you? Think again lovely.
Enjoy your exposure Steffy. Remember; I'm leaving the country for several weeks starting next week – you will be completely unable to beg, pay or plead for me to remove this blog post until I get back. YUM.
OMG – this just in – if you google 'sissy steffy exposed limdick loser' you might be able to actually see her! In action! Go ahead…..give her a look; she'll like it.