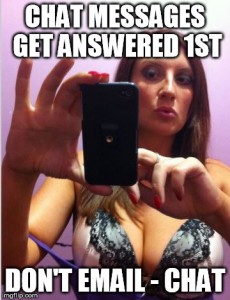 Have you seen the new CHAT/TEXT feature on Niteflirt? I wasn't so sure about it at first – but now – I'm hooked! See the 'send text' link? That is there when I'm not signed in for calls – but – here's a secret; you can actually chat/text me ANYTIME – if I'm online, if I'm on a call, if I'm away – whenever you want. I can use my cell phone to answer you back – omg, I am IN LOVE!

I mean, seriously, you can reach out to me 24/7 – rather than needing to check my NF email; I receive a text message every time you send me a chat message! It's so cool – just because I'm not online for calls doesn't mean I'm not around. I can answer your messages anytime I want to! And, I've decided, since it's easier for me and quicker – I am going to respond to all chat messages BEFORE reading and responding to any of your emails. And that's that!
So, get used to it – chat is here to stay – you want to know that I am very well aware that you need me and want to talk to me – send me a chat message and I'll know it right away!
If you just have to hear my voice or see my hot pics – don't forget; I have 82 Goody Bags for you to buy – that will definitely get you the fix you need!
One last thing – do you fantasize about just – well – being ignored by me? Like, being in my presence but not even being able to talk to me? What about me and a friend or two? You will definitely LOVE calling my IGNORE LINE – make sure to add it to your Favorites now so you'll see when I'm available there.
Kelly