I know you love calling Me and having Me listen to your deepest confessions, your most intimate of humiliations. I absolutely love watching you stroke and perform for Me on cam. I sincerely adore listening to your cock sucking, panty wearing, tiny penis having fantasies (and facts). But, what if…….
You could have Multiple Mistresses on the phone with you?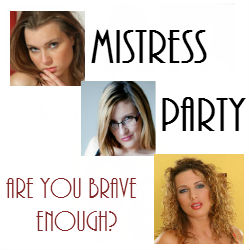 For a very lucky few, this WILL happen.
You see, my very good friend Mistress Reaghan has created an NF listing called Mistress Party. How did this come about you may wonder? As you may already know, I spend a lot of time at her beautiful South Florida home. I also live in South Florida so it's very easy to come by for an extended visit. We love to include each other on our sexy calls, when appropriate. Recently, we had Miss Jane come for a visit and thus…….Mistress Party was created! We have been enjoying having men calling all of us – falling to their knees and being amazed by all of us controlling him at the same time. We also have skype & yahoo webcam viewing capabilities; do you dare show multiple Mistresses?
Humiliating & Enjoying Men – Are You Brave Enough?
All you have to do to be a part of our Mistress Party is to call us whenever that line is open and we're available. Here's the link to the Mistress Party NF Page – if it says 'Call Now'; we're available and you need to call US – right now!
We may have two Mistresses or more; you'll never know! Keep an eye on my Twitter page for updates, too. When you call, we will put you on speakerphone so that we can ALL hear EVERYTHING you do and say. You'll also hear us – guiding, laughing, questioning, giggling. Are you brave enough?
We can't wait to hear from YOU!
Call Me:
1-800-863-5478
ext: 10067563