Hey there naughty wanker! Did you know I have 24 pre-recorded listings on Niteflirt? If you want to hear your sensual Mistress at anytime of day or night; this is for YOU! You just load some money onto your account (load more; that wasn't enough), select one of the pre-recorded audio listings, sit back and listen as I guide you through a session. Click Here to see the whole delicious list!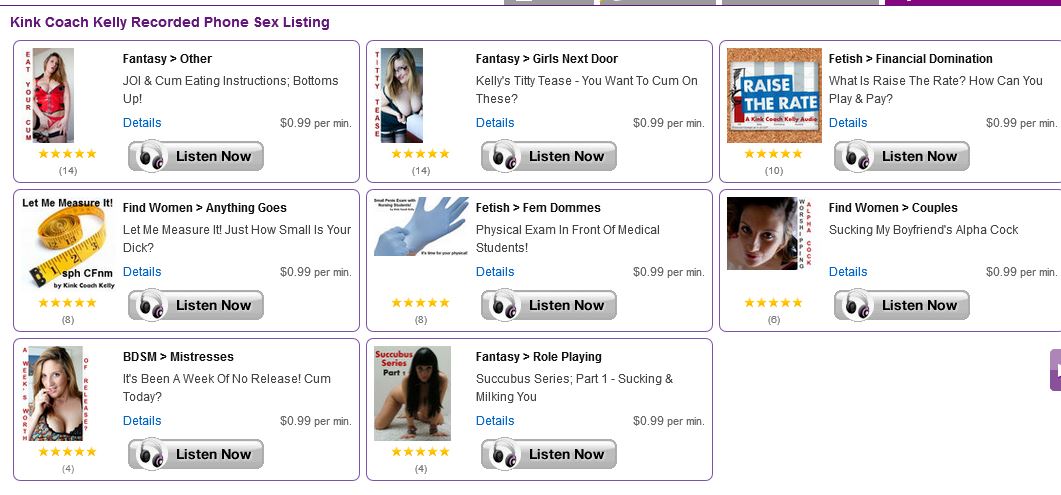 What kind of sessions do I have pre-recorded? JOI, cum eating, succubus fantasy, titty tease, fin dom, listen to me sucking a real cock, fucking a real cock, worshiping a real cock (did I mention real cock?). Click Here For All 24!
What are you waiting for? The per minute discount is only through this Monday; after that the per minute rate will most certainly go up.
Don't forget to look through my Goody Bag collection while you're online, to follow me on Twitter and to subscribe to my Personal Blog for updates.
P.S. – I also make custom audios! Send me an email to discuss erotic content and pricing. kelly@kinkcoachkelly.com
XOXO Kelly