You've been asking for more control.
Here it is.
I've just put out a new NF Goody – Brainwashed! Always Wank – Never Fuck!
Listen to a free audio clip Here.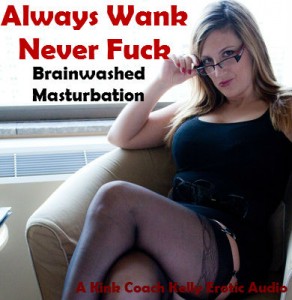 This 20 minute erotic fantasy is going to trigger so many of your submissive, obedient needs and tendencies! I've got you home alone and I intend to take over – I've implanted a track that you've inadvertently listened to over and over. Now you are so pliable that, with the mere slap of my hands, you will have no choice but to: Always Wank – Never Fuck!
This audio has themes of: brainwashing, blackmail, female authority figure, large cock shame, commands, triggers, forced masturbation, hypnosis, hypno, trance
Make sure you look at my other goodies – I have 80 now! See All KCK's Goodies!
Don't forget – I also make custom audios – this audio actually started out as a custom – I loved it so much I had to make it into a goody!