Have you ever fantasized about being exposed in front of a room full of women?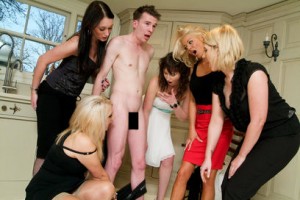 Here's your chance!
Tomorrow night, from 9PM – 3AM EST, I will be at an all girl's slumber party! And when I say girls, it's important for you to know that these are very KINKY women – none of them are vanilla. This is going to be so much FUN! Here's the plan for the evening….
We are all going over to Slutty Bonnie's house around 8 or 9PM EST. We'll all change into our sexy nighties and lingerie so we can be totally comfy! We have some cocktail ingredients to make some very strong margaritas and we are all bringing some yummy grub!
Now, this is where YOU come in…………We need ENTERTAINMENT! Want to call in and entertain us? I'll have my laptop so we can watch you on webcam or I can put the phone on speakerphone so we can all play. We're looking for: Really Big Cocks, teeny tiny cocks, exposure sluts, humiliation sluts, PAY PIG$, ass stretchers, pain whores and more!
You can call any of my lines that you see available – I may have a regular line on or I may turn my Ignore Line on. Please note that if you call the Ignore Line; you WILL BE IGNORED by all of us!
Hope to hear from you…..see you…..play with you…..tease you…..laugh at you…………………..
P.S. – if you're not available on that particular night….don't despair….I am quite often with other kinky women; you'll get your chance.
Call Me:
1-800-863-5478
ext: 10067563